This is my last Veganuary post as the month draws to a close, (though there will be lots more vegan recipes coming up, don't fear!), and I thought I would share one of my very favourite "but surely that can't be vegan" meals, my super-duper vegan lasagne with its creamy vegan bechamel sauce.
The big surprise is the intensely creamy, velvety, even (dare I say) "cheesy" sauce layer, for which the recipe is below.  For the other tomato-ey 'mince' layers I used a batch of my Slow-Cooked Borlotti Bean Chilli from the freezer, bulked out with some soya mince and extra veg to make it stretch a bit further.  
The creamy sauce uses a now very common trick to get that lovely texture – the inclusion of a whole cauliflower.  I know, it sounds a bit crazy, but don't knock it 'till you've tried it.  If you imagine the creamiest cauliflower soup you've ever tried, then add some soya or nut milk and secret vegan cheesiness powder (more below on that one), that's this sauce.  Type 'Cauliflower Alfredo Sauce' into Pinterest and you will see the near-obsessive use of cauliflower to recreate velvety creaminess of a simple cheese sauce, without dairy.
I'm not a fan of wierdo vegan ingredients which involve a tour of your local health food shops to find.  But nutritional yeast flakes really are worth tracking down for their uncanny ability to make just about anything taste 'cheesy'.  They are also incredibly good for you with all sorts of vitamins and minerals including the elusive B12 which is one of the hardest to get into a vegan diet.
I used Marigold's Engevita Flakes, but If you can't find any really don't worry, the sauce will still be delicious without, just a little less 'cheesy.  Make sure you adjust the seasoning accordingly, you may need a little more salt.
Of course this sauce isn't just useful for lasagne, you can substitute this in pretty much anywhere you would use a béchamel or cheese sauce – pasta bakes or macaroni 'cheese', dauphinoise-style potatoes, vegetable gratins, the possibilities are endless.  This makes 1 litre of sauce, so easily enough for a lasagne for 2, then keep half in the fridge for another night, perhaps with some of the alternative flavourings suggested below for variation.
The great thing about including a whole cauliflower is that the sauce is deceptively 'light' – a litre of real cheese sauce would contain, well, a litre of milk or cream, plus lots of cheese.  A litre of this is so much lighter and easier on the gut, that you can eat twice as much lasagne.  Yes, that's right – go vegan and you can eat twice as much lasagne.  You heard it here first.
Thanks for the creamy vegan cauliflower sauce inspiration to: Cauli-power Fettuccine "Alfredo" at Oh She Glows, Creamy Cauliflower Sauce at Pinch of Yum, and Jac's Creamy Cauliflower Macaroni Cheese at Tinned Tomatoes.
---
Don't forget to pin the recipe for later, or to share with friends → → → → →
You might like to take a look at my Vegan Mains Recipe Index for lots more easy vegan suppers!
---
Do send me pictures of your very own vegan bechamel sauce on:
to show me how you got on!
---
You can add all sorts of wonderful flavourings to your vegan bechamel sauce for added interest, such as:
Roasted Garlic – wrap a whole head of garlic in foil and bake for 30 minutes.  When cool, squeeze the sweet flesh out of each clove and add to the blender.  All the sweetness with none of the death breath!
Curly Kale – Add a large handful of kale or spinach to the saucepan whilst the cauliflower is cooking for a bright green sauce.
Wholegrain Mustard  – just add one tablespoonful to the blender.
Dairy-free Pesto – my favourite is Mr Organic's Basil Pesto, add a tablespoon of pesto to the blender.
Lemon & Fresh Herbs – basil, parsley or thyme, with the zest of a lemon would be really lovely additions.
Sun-Dried Tomato – a tablespoon of sun-dried tomato paste added to the blender really perks up a Mediterranean- style lasagne.
Creamy Vegan Béchamel Sauce
Keyword:
vegan bechamel sauce, vegan lasagna sauce, vegan lasagne sauce
Ingredients
2

tbsp

olive oil

1

onion

1

cauliflower,

cut into small florets.

3

tbsp

flour

(sauce flour or just plain flour will do)

800

ml

soya or nut milk mixed with water

(I used a 50/50 mix here, 400ml milk and 400ml water, but for an extra creamy sauce use all milk, and for a very low-fat sauce use 200ml milk and 600ml water!)

2

tsp

stock powder

4

tbsp

nutritional yeast
Instructions
Heat the oil in a large saucepan, add the onion and fry gently for 3-4 minutes until soft. Add the cauliflower, cover with a lid and cook for a further 3-4 minutes.

Sprinkle the flour over the cauliflower, then stir. Pour over the milk and water, and add the stock powder.

Bring to the boil, then reduce to a simmer and cook for 15 minutes until the cauliflower is soft. (Don't worry too much if there are some lumps of flour, these will disappear when blended).

Tip the cauliflower and sauce into a high-speed blender, (or use a hand-blender in the saucepan), add the nutritional yeast flakes and season well with salt and black pepper. Blitz for 40-50 seconds until completely smooth and creamy.
Nutrition Facts
Creamy Vegan Béchamel Sauce
Amount Per Serving
Calories 224
* Percent Daily Values are based on a 2000 calorie diet.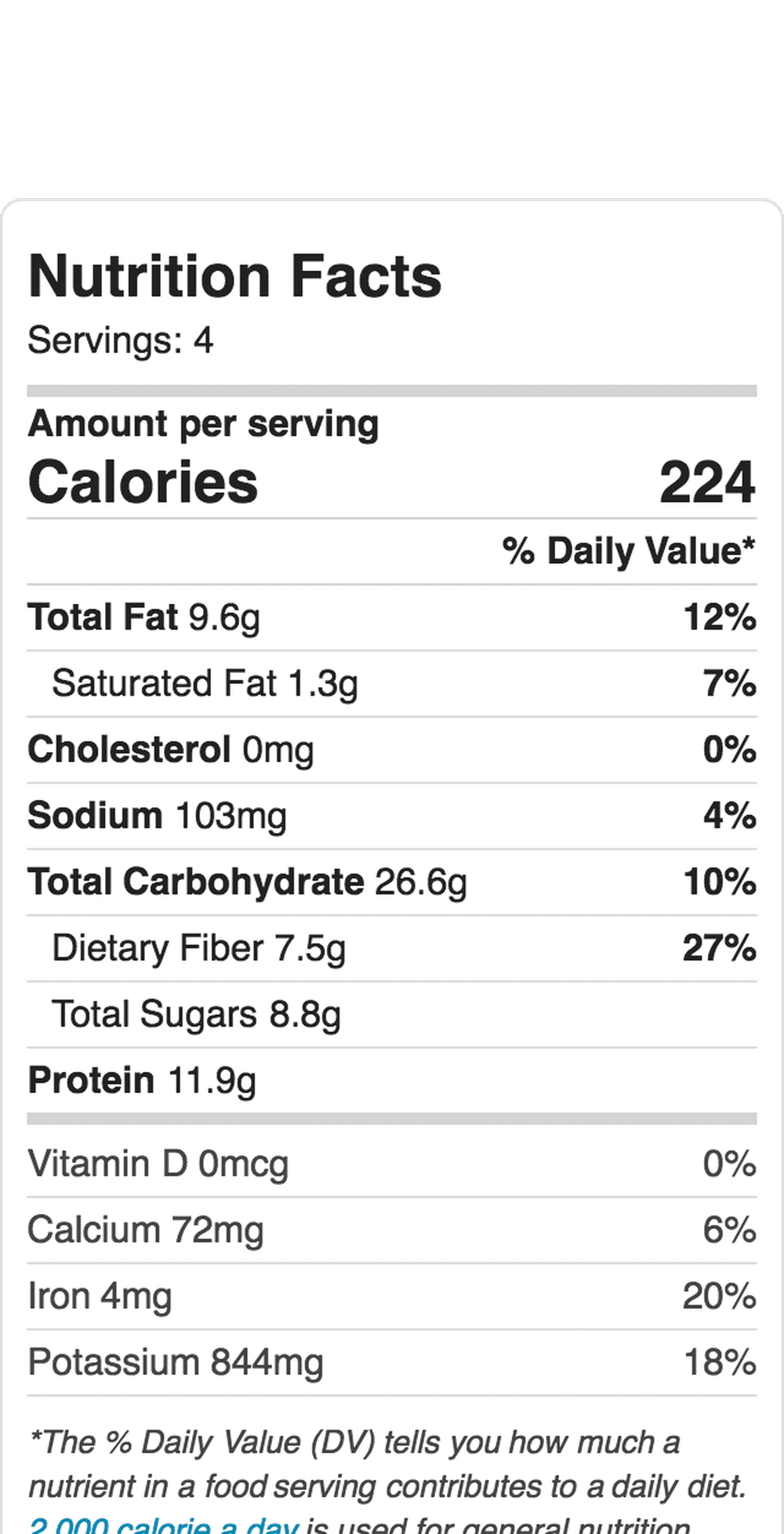 ---
There are plenty of similarly quick and easy recipes in my new book, 'Vegan in 15'*. Hop over to Amazon for a look.  Thanks for your support!
*Affiliate links
---
And if you haven't yet signed up, you can get a monthly roundup of all my recipes and giveaways delivered to your inbox absolutely free – just click here to subscribe to The Veg Space monthly newsletter..
.
.
.
.
.
For more vegan lasagne inspiration take a look at: