I've been itching to experiment with vegan-ising the totally luscious Greek dish, Moussaka, for some time but it isn't the speediest dish to make and it took a week's 'staycation' over this half term holiday to finally get around to it.
I'm so glad I took the trouble and you will be when you try it too! Yes, this definitely isn't in my '20 minute meals' series, and there are four different elements to make, layer up and then bake. But the finished product is absolutely worth the effort.
A traditional moussaka would be based on a slow-cooked lamb ragu – easy enough to vegan-ise and I've used lentils mixed with carrots, courgette and onion cooked in red wine and stock, with cinnamon and oregano.
This is layered up with roasted aubergine, and whilst traditionally the topping would contain eggs whipped into a creamy béchamel sauce, I found that thickly sliced potatoes slathered with a vegan béchamel (with vegan parmesan in it if you wish) is every bit as luscious and such a decadent topping to this fabulous dish.
This would be such a crowd-pleasing dish to serve to both vegans and non-vegans alike, incredibly tasty and filling, no one will be missing the meat.
I serve mine with a crisp green salad and crusty bread, or in the winter perhaps some green vegetables on the side.
Of course you can use any base layer you like instead of lentils – if you've found a meat-free mince that you like just substitute it into the recipe in place of the lentils, or you could use finely chopped mushrooms or even roughly chopped or mashed butterbeans instead.
How to Layer your Vegan Moussaka
Here's a quick how-to video which shows how quick and easy it is to layer up your moussaka:
Can you freeze your vegan moussaka?
This would freeze really well, and would be perfect for batch cooking as it would take very little extra effort to make up a double batch, then freeze in individual foil trays for lots of lovely weeknight suppers.
Just remove one from the freezer in the morning, then bake as below for 35-40 minutes until cooked through and golden brown on top.
---
Don't forget to pin the recipe for later, or to share with friends → → → → →
Do send me pictures of your very own vegan moussaka on:
to show me how you got on!
---
Vegan Moussaka: Equipment & Shopping List
You will need:
Large lidded casserole or frying pan
Saucepan
Ovenproof dish
Shopping List:
Aubergines
Onion
Courgette
Carrot
Large potatoes
Dairy-free margarine
Plain flour
Tinned green or brown lentils
Vegetable stock powder
Garlic purée / ready-chopped garlic
Cinnamon
Dried oregano
Nutmeg
Tomato purée
Red wine
The Ultimate Vegan Moussaka
A traditional Greek moussaka, made vegan with lentils and red wine, layers of roasted aubergine, sliced potato and a creamy béchamel sauce.
Ingredients
For the aubergine layers:
2

aubergines

2

tbsp

olive oil
For the lentil layers:
1

onion

1

courgette

1

carrot

2

tbsp

olive oil

1

tsp

garlic purée / ready-chopped garlic

1/2

tsp

cinnamon

1

tsp

dried oregano

2

tbsp

tomato purée

400

g

tinned lentils

(green or brown - drained and rinsed)

150

ml

red wine

(check it is vegan)

150

ml

water

1/2

tsp

vegetable stock powder

(check it is vegan)
For the potato & béchamel layer:
2

large potatoes

60

g

dairy-free margarine

60

g

plain flour

500

ml

dairy-free milk

(I usually use oat or soya)

50

g

dairy-free cheese

(optional - I usually use vegan parmesan)

grated nutmeg

(to taste)
Instructions
Preheat the oven to 180ºC (fan) / 350ºF / Gas Mark 4. Slice the aubergines into rounds about 1/2cm thick. Brush with oil on both sides, season with salt and black pepper and lay on baking trays. Roast for 25 minutes or so, turning half way through cooking, until golden brown all over and soft.

Meanwhile, finely chop the onion, carrot and courgette. Heat the olive oil in a large lidded casserole or frying pan, and gently cook the onion and carrot for 4-5 minutes until starting to soften, then add the courgette and garlic and continue to cook for a further 4-5 minutes.

Add the cinnamon, oregano and tomato purée to the pan, stir well, then add the lentils and red wine. Turn up the heat to bring to the boil, then reduce to a simmer. After 2-3 minutes, add the water and stock powder then cover and cook gently for 20-25 minutes until the lentils are soft. If the mixture becomes too dry before the end of cooking, add a little more water, and if there is too much liquid left over just remove the lid for a further few minutes of cooking. Taste and add salt and pepper as required.

Whilst the lentil mixture is cooking, bring a saucepan of water to the boil. Peel and thickly slice the potatoes, then add these to the pan and cook for 5 minutes until almost cooked through but not falling apart. Drain and set aside in a bowl.

Melt the margarine in the same saucepan, and add the flour. Cook gently, stirring constantly for 2-3 minutes, then add the milk a little at a time until you have a thick and glossy sauce. Remove from the heat and stir through the grated cheese and nutmeg. Taste and add salt and pepper if required.

To layer up the moussaka, see the video above: Place half the aubergine slices in the bottom of an ovenproof dish, followed by half the lentil mixture. Top with the remaining aubergine slices, then the remaining lentil mixture, then the potato slices, and finally pour over the béchamel sauce.

Bake in the oven for 35-40 minutes until the top is turning golden brown. Serve immediately with crusty bread and a crisp green salad.
Nutrition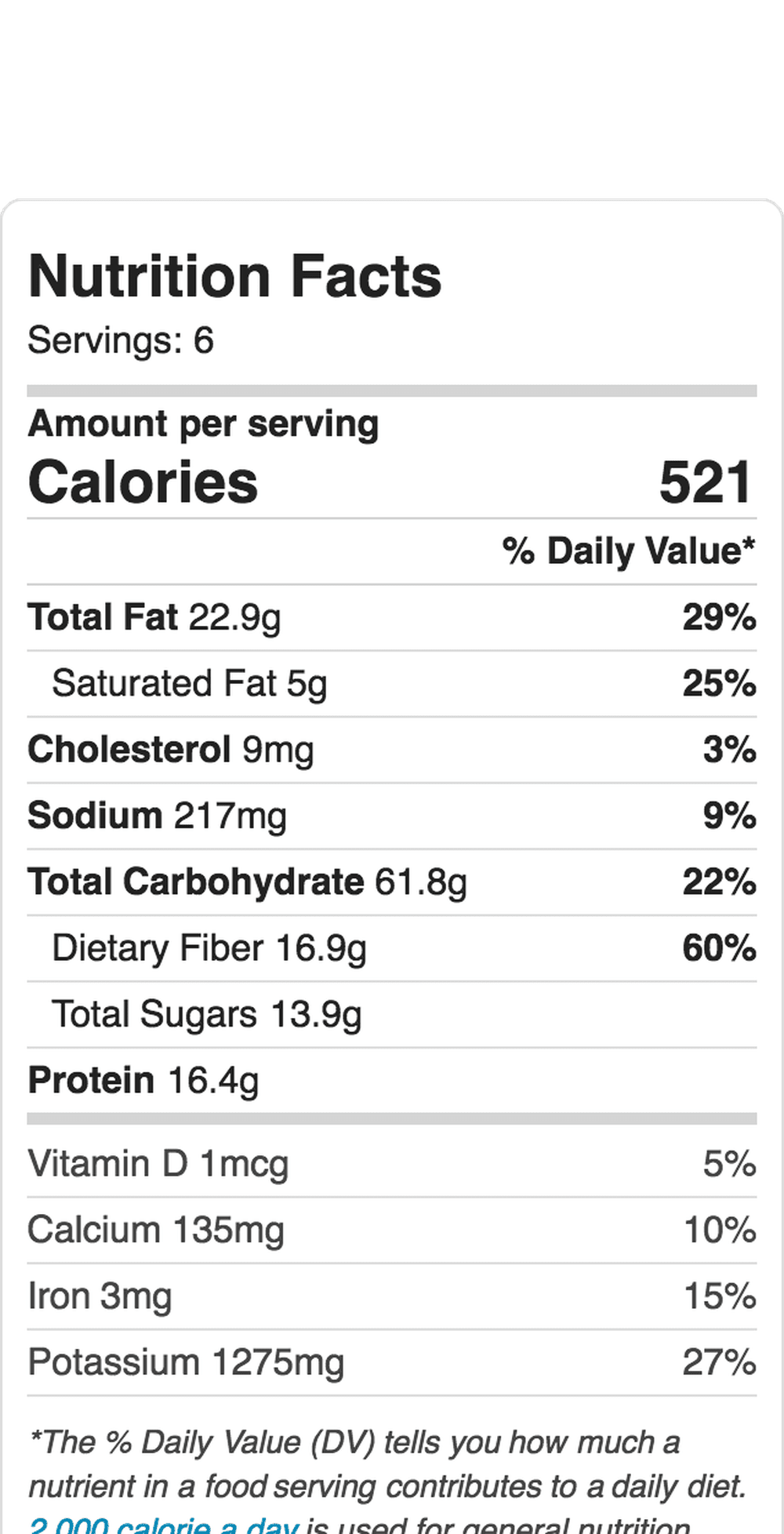 ---
There are plenty of quick and easy vegan recipes in my new book, 'Vegan in 15'*. Hop over to Amazon for a look. Thanks for your support!
*Affiliate links
---
And if you haven't yet signed up, you can get a monthly roundup of all my recipes and giveaways delivered to your inbox absolutely free – just click here to subscribe to The Veg Space monthly newsletter.
.
.
.
.
.
I'm linking this recipe with a number of blogging challenges: