We have a shamefully neglected morello cherry tree in a pot outside our front door, and last winter I was 100% sure it had kicked the bucket. I intended to take it to the dump, but thankfully never got around to it, and lo and behold, it sprung back into life and for the last few weeks has been drooping under the weight of a huge crop of great big juicy morello cherries. There's probably a moral in that somewhere.
This jam began as a thank-you present for some lovely ladies who have been helping with childcare over the last term, but in order to make enough pots I bulked out our cherries with some raspberries. Both are fairly sour so this is a jam with some 'zing' to it, which I love, but if you prefer you jam super-sweet you could use eating cherries and perhaps strawberries in place of the raspberries.

Morello Cherry & Raspberry Jam
A fresh and zingy jam, perfect for using up a glut of home-grown fruit!
Bookmark
Saved!
Ingredients
500

g

morello cherries

(stoned weight)

500

g

raspberries

(I used frozen and thawed, as they are so much cheaper in this volume!)

1

kg

jam sugar

(with pectin)

1

lemon

juice
Instructions
Remove the stones from the cherries, (either with one of those nifty cherry stoner gadgets or just a knife). Place the cherries and raspberries into a large bowl. Place a saucer or small plate in the freezer, (sounds odd, but you will need it later!).

I like my jams smooth and seedless, so at this point I blitzed the fruit to a juicy pulp with a hand blender then passed the fruit puree through a sieve into a large saucepan, discarding the raspberry seeds and little bits of cherry skin. (If you don't mind the seeds and skin in your jam feel free to skip this step!).

Add the jam sugar and lemon juice to the pan and heat very gently for 5-10 minutes until the sugar has completely dissolved. Then bring to the boil. If you have a thermometer, use it measure when the jam gets to 102°C. At this point place a small dollop onto your cold saucer/plate and leave it to cool slightly. Give it a nudge with your finger - if the surface wrinkles it is set, so remove the jam from the heat immediately. If you don't have a thermometer, start testing after the jam has been boiling for 5-6 minutes and repeat until it wrinkles.

Leave to cool in the saucepan for 10 minutes or so, then pour into sterilised jam jars, leaving the lids off until the jam is completely cool.
ENVIRONMENTAL INFORMATION
Nutrition
Serving:
1
serving
Calories:
28
kcal
Carbohydrates:
7
g
Protein:
1
g
Fat:
1
g
Saturated Fat:
1
g
Polyunsaturated Fat:
1
g
Monounsaturated Fat:
1
g
Sodium:
1
mg
Potassium:
13
mg
Fiber:
1
g
Sugar:
7
g
Vitamin A:
3
IU
Vitamin C:
1
mg
Calcium:
1
mg
Iron:
1
mg
Tried this recipe?
Let us know how it was! Mention @thevegspace or #thevegspace
SHARE BY EMAIL
SHARE TO FACBOOK
If you like the look of this recipe please follow me for more…. on Facebook, Twitter, Instagram or Pinterest. Thanks! Kate x
If you too have a glut of cherries, why not try my Cherry Cordial recipe.
Or for jam recipes from other blogging friends, why not try:
I'm entering this jam recipe into the Simple & In Season Challenge over at Ren Behan's lovely blog.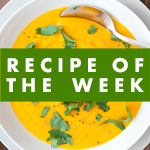 ....and also in Recipe of the Week over at A Mummy Too.
....and also in Breakfast Club hosted this month by Andrea at Made with Pink and Sarah at Maison Cupcake.